Abdel Wahab
Abdel Wahab has established a reputation for offering distinctive Lebanese food and has integrated himself into the classic Lebanon experience. Abdel Wahab is undoubtedly one of the top restaurants in the city, with its opulent oriental atmosphere and genuine Lebanese friendliness.
Abdel Wahab, a favorite among locals and visitors alike, serves specialties including Lebanese mezzes and conventional grilled meals.
Location:  ABC Achrafieh, Level 3, Furn El Hayek Street, Achrafieh,, Beirut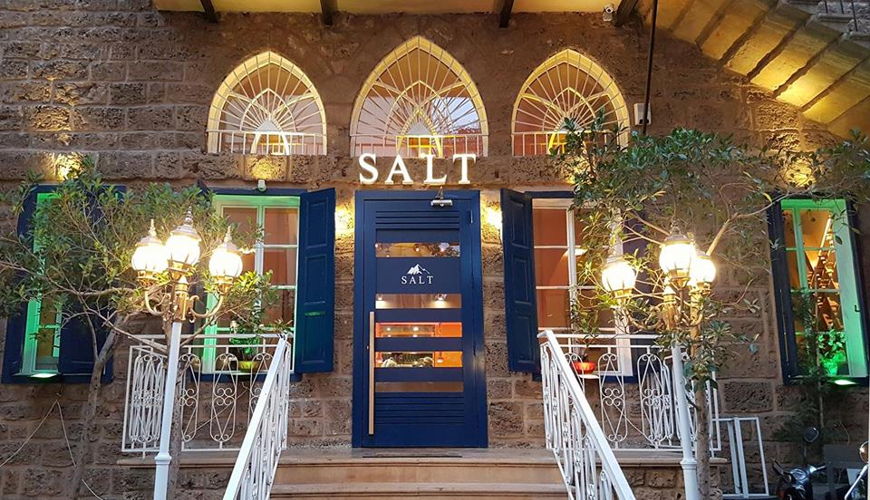 Blû SALT by Eddy Diab
The renowned Chef Eddy Diab brings his magic to Blû Salt with his innovative cuisine and creative food design. With a gorgeous & romantic setting, this restaurant serves refined French cuisine with a modern touch, creating a perfect atmosphere for quite evenings and celebrations.
Location: Monot Street, Achrafieh
Fred Bistro
From the inexperienced foodie to the curious platters and seasoned aficionados, Fred offers something for everyone.
Fred delivers delicacies influenced by French culinary traditions & history as well as worldwide cuisine with a French touch, with a menu highlighted by the Rotisserie. You'll be transported right to the streets of France by the restaurant's rustic furnishings, French Bistro ambiance, and cuisine!
Location: Ashrafieh, Beirut District
Le Phenician
Inaugurated in 1973 by Mr Habib Hadid, this place of maritime richness located in Tyr welcomes its clients in an incomparable marine atmosphere.
In 1988, Mr Hadid decided to make his "Phenicien" travel to the capital Beirut and chose the area of Horch Tabet to establish his new restaurant which was renovated few times ago.
The daily presence of Mr Habib Hadid, who is the owner, gives a special touch to this place where clients feel like home and do not even ask for the menu as they trust its quality.
"Le Phénicien" has built a strong reputation, thanks to a great variety of delicious and unseen mezes and also to varied and appetizing main courses waiting for the gourmets.
Mr Habib Hadid creates the recipes following his inspiration. In a perfect osmosis with his chef, who is reliable since 1973, Mr Hadid entrust him the execution of his recipes.
In line with the Michelin Guide, he got the EUROPA award (Europe United Reality Outstanding Personal Award) that offered him a certificate where it says: "the warm welcome, the personalized comfort and the meticulous service, added to a delicate/exquisite gastronomy realize the ambition of doing constantly more and better to satisfy the clients in the tradition of the best. "
Location: Rue President Camille Chamoun, Horch Tabet,Dimitri ell Hayek
Les Caves De Dar Azar
Perched on the hilltop of Beit Mery with spectacular views overlooking Beirut, Les Caves de Dar Azar is a historic restaurant set within architectural splendor.
This gorgeous spot serves traditional French & Italian dishes with ingredients freshly prepared daily and straight from garden to table. The welcoming environment and spectacular views make this is a must-visit spot in Beirut.
Location: Beit Meri
Matto Beirut
Named after the Italian word for "crazy", Matto is known for shaking up the rules of cooking and taking a stand agaibst normality. Matto provides its diners with a true Italian experience, transporting you to the busy streets of Italy with their unusual gastronomical meals. Matto is where modernity and history collide.
Expect one-of-a-kind service and a medley of authentic Italian dishes like you've never experienced before!
Location: WH6H+JXQ، Ground, Beirut
El Paseo
Set in a modern and cozy décor, El Paseo is a Spanish tapas Bar in the heart of Badaro. El Paseo's wide and authentic variety of Tapas alongside it's full cocktail bar will transports you straights to the streets of Spain.
Location: Beirut District, Badaro
The Gathering
Focused on serving fresh, organic and high quality produce, The Gathering brings to the table exquisite Italian dishes, hearty premium grills, and bar gastronomy bites. The Gathering's unique and historical location composed of three turn-of-the-century old houses retains the beauty & charm of the city's historic beginnings.
The Gathering also offers it's space for special evenings and events, along with an option to buy wholesome organic products varying from fresh cut meat to local produce.
Location: Beirut District, Gemmayze
Retro Active
Retroactive Music Bar's name is everything. The essential factor is nostalgia.
Come and listen to the live bands and resident DJs spinning timeless classics and modern hits. While indulging in mouthwatering cuisine produced by chefs, enjoy your favorite cocktails created by skilled bartenders. Enjoy a multi-course dinner or satisfy your craving for delectable appetizers as you sip your beverages.
Location: Ashrafieh, Beirut District
KALÉO
Kaléo reflects the rhythm of its location, offering fine dining in a casual and artfully inspired setting. The menu features contemporary European dishes prepared with carefully sourced seasonal ingredients.
What's special? The frogs served two ways, perfectly poached organic eggs with porcini, and grilled beef filet with Kaleo's special potatoes.
Location: Dr. Fawzi Daouk Street, Minet ell Hosn, Downtown Beirut
Market is best described as a cosmopolitan restaurant that serves diverse cuisines and embraces different culinary traditions from around the world. If you don't know what you're in the mood for, you will most certainly find it here.
What's special? The rock shrimp tempura, salmon tataki, sesame prawn toast, steamed chicken dim sum, king crab salad and kung pao chicken with cashew nuts.
Location: Ahmad Chawki Street, Minet El Hosn, Beirut District